The Irruption - #See You At Home

32 artistic proposals in times of collapse and pandemics
---

Format: 6Dof Virtual Reality Installation / 360 Videos / Video Installation.
Genre: Spatial Essay / Virtual Reality Essay.
Status: 2022 - completed.
Collaborators: Bettina Katja Lange, Joan Soler-Adillon.
Special Thanks to: Juan Carlos Duarte Regino, Krisjanis Rijnieks.
Location: Santa Monica Arts Center, Barcelona.

The exhibition was realized in the framework of the ISEA 2022 Conference in Barcelona at the Santa Monica Arts Center and was curated by Marta Gracia, Jara Rocha and Enric Puig Punyet. ︎
#See You at Home – The Domestic Spaces as Public Encounter is an interactive and immersive installation about changing the role of the private space in a time of crisis. It is part of an ongoing participatory project that reflects on our everyday domestic life between private and public spheres, and thus on our relationship with living spaces in general. The project consists of a collection of hundreds of three-dimensional documents taken between 2020 and 2021 in over 40 different countries during the most intense periods of self-isolation and home confinement.
Following an open call, the collected videos were converted to 3D objects using the technique of photogrammetry. These imperfect objects (pointcloud images with gaps and unfinished endings) are the core content of the work's archive, along with personal statements about the time of quarantine and the changing meaning of private spaces in the form of audio pieces and text.

#See You at Home is a physical installation that includes 3D-printed objects, plotter prints on the wall, and interactive objects with QR codes leading to 360 degree virtual spaces that visitors can view through the 'magic window' feature of their phone. Additionally, the work expands on, and includes within, a previous work: the VR installation The Smallest of Worlds. With it, #See You at Home offers a journey within a journey that explores the private spaces as its possible forms develop and change, in a back and forth between the real and the virtual that is both conceptual and experiential.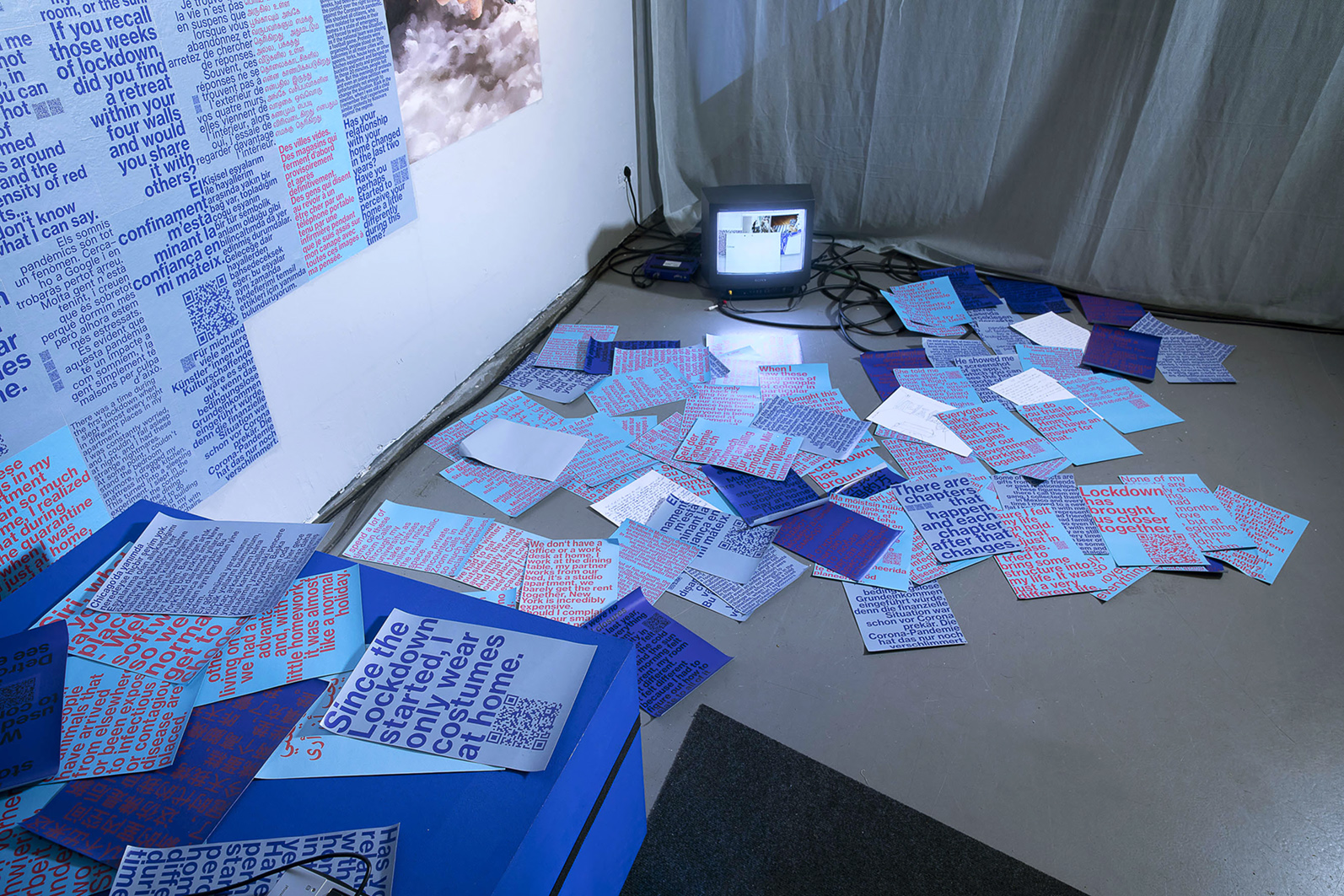 Special Thanks to: Ulrich Schrauth, Fabien Siouffi, Gayatri Parameswaran, Mark Atkin, Eva Fischer, Yukuan Wang, Macario Ortega, Max Happ, Stefan Maier.

The VR Archive The Smallest of Worlds - A Landscape of collected Privacy was developed during CPH:LAB, as part of CPH:DOX Documentary Film Festival 2021 and funded by Pixel, Bytes + Film 2021, BMKÖS (Federal Ministry of Arts, Culture, Public Service and Sports, Austria), and Deutscher Künstlerbund, Neustart Kultur.
Concept and Design: Uwe Brunner, Bettina Katja Lange, Joan Soler-Adillon
Sound Composition: Juan Carlos Duarte Regino
VR Developer: Burkart Schwaighofer
Creative Technologist: Krisjanis Rijnieks
Image Credits: Eloy Jódar / Emmanuel Grunstein / Official ISEA
Video Credits: Juan Carlos Duarte Regino
Supported by